Shade Sails & Umbrellas Bunbury: Your Ultimate Weather Protection Solution 
Welcome to WeatherSafe WA, your ultimate destination for top-quality Shade Sails in Bunbury and the surrounding areas. We offer a range of waterproof and sunshade sails meticulously designed to suit your needs. 
Our shade solutions are highly durable and stylish. They also ensure all-around weather protection for your residential or commercial space.  So, if you are looking to create a shaded and stylish outdoor place to relax, our outdoor shade sails are a perfect choice.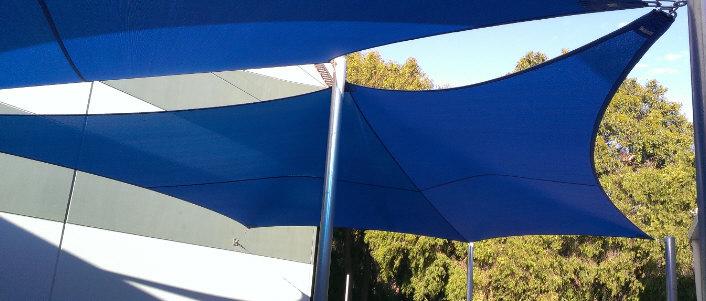 What Are Our Shade Sails Made Of?
Our Shade Sails in Bunbury are made from durable materials that can handle the tough Australian weather. They have a special fabric that blocks the sun's harsh rays, so you and your family can stay safe. Plus, we add strong metal frames to make them super strong and last long.
Can Our Shade Sails Handle Wind?
Yes! Bunbury can get really windy sometimes. So, we made our Metal Shade Sails in Bunbury tough enough to resist such strong winds. This means even if the weather gets rough, your shade sail will stay strong and keep you safe!
How Water Resistant Are Our Shade Sails?
Our Waterproof Shade Sails in Bunbury are expertly designed to keep you dry even during heavy rain. The waterproof fabric we use ensures that rainwater runs off smoothly, preventing any water from pooling on the sail's surface. You can enjoy your outdoor space without worrying about getting wet.
Our Process
At WeatherSafe WA, we have a streamlined process to ensure you get the perfect shade sail for your needs. Get a brief idea of how we work:
Consultation: We begin by understanding your requirements and assessing your outdoor space.
Design: Our expert team will create a custom shade sail design tailored to your specifications.
Installation: Once you're satisfied with the design, we proceed with professional installation, ensuring a secure and reliable fit.
Final Inspection and Quality Assurance: We conduct thorough quality checks to guarantee the durability and functionality of your shade sail.
Why Choose Us As Your Trusted Shade Sail Provider in Bunbury?
Choosing WeatherSafe WA for your shade sail needs is a decision you won't regret. Here's why we are the preferred choice in Bunbury:
Experience:

With years of experience in the industry, we have honed our skills to deliver top-notch shade solutions.

Quality:

We never compromise on the quality of our materials or workmanship. This ensures that your shade sail remains strong and lasts long.

Customisation

: 

Our products are tailored to your specific requirements, ensuring a perfect fit and maximum satisfaction.

Customer Satisfaction:

We prioritise your satisfaction above all else, and our friendly team is always ready to assist you.

Affordability:

We offer competitive pricing without compromising on quality, making our high-quality shade sails accessible to all.
WeatherSafe WA is your trusted partner for Sun Shade Sails in Bunbury. Contact us today for a free consultation, and let us transform your outdoor space. Don't let the harsh weather keep you indoors. Buy our premium outdoor shade sails today!