Welcome to WeatherSafe WA, your trusted shade sail provider in Bunbury. When it comes to providing excellent maintenance and repairs for shade sail along with innovative shade sail solutions in Bunbury, we've got you covered. Our mission is to keep your outdoor spaces comfortable, stylish, and well-protected from the elements.
What We Offer
At WeatherSafe WA, we understand that shade sails are more than just a functional addition to your outdoor areas. They are an investment in the comfort and aesthetics of your property. Here's what you can expect from our range of services:
Maintaining Shade Sails Bunbury:

Our team of experts is committed to ensuring that your shade sails stay in pristine condition. We offer comprehensive

waterproof and sun shade sail maintenance

services to keep your shade sails looking great and functioning effectively. From regular cleaning to inspections, we take care of it all.

Shade Sails Repairs Bunbury:

Even the most durable shade sails can face wear and tear over time. When you notice issues like sagging or tears, don't worry. WeatherSafe WA is here to provide prompt and efficient

waterproof and sunshade sail repairs

. We'll have your shade sails looking and performing like new.

Shade Sails Solutions Bunbury:

Looking to upgrade or install new shade sails? We specialise in designing and installing custom shade sail solutions tailored to your specific needs. Whether you need

waterproof shade sails

,

sun shade sails, or outdoor shade sails solutions

, we have you covered. Our innovative solutions ensure your outdoor spaces remain stylish and comfortable.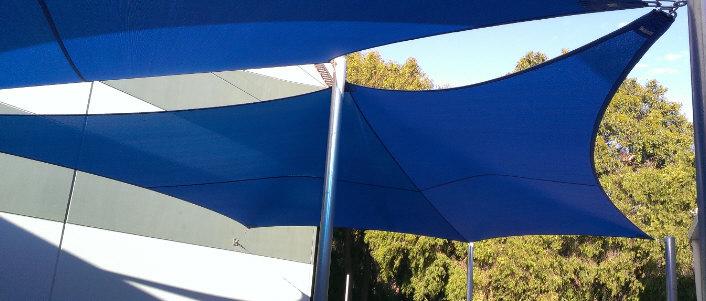 Our Process
At WeatherSafe WA, our process is simple and efficient, ensuring that your shade sail maintenance, repairs, or installation is carried out seamlessly:
Consultation:

We begin with a thorough discussion of your needs and preferences. We'll provide expert advice on the best shade sail solutions for your outdoor space in Bunbury.

Custom Design:

Our team of skilled professionals will create a custom design that complements your property's aesthetics. We consider factors like size, shape, and material to ensure your shade sails are both functional and attractive.

Quality Installation:

We pride ourselves on the precision of our installations. Our experienced team will ensure that your shade sails are securely and aesthetically placed, so you can enjoy them for years to come.

Maintenance and Repairs:

Our experts offer regular maintenance and timely repairs, making sure your shade sails remain in top condition. We use quality materials and methods to ensure durability and longevity.
Why Choose WeatherSafe WA for Shade Sails Maintenance, Repair, and Solutions in Bunbury?
Local Expertise:

We are proud to be a local business with a deep understanding of Bunbury's climate and conditions. This knowledge allows us to provide tailored solutions that work best for your specific location.

High-Quality Materials:

At WeatherSafe WA, we use only top-quality materials for our shade sails, ensuring they withstand the harsh Australian weather. This guarantees longevity and reliability.

Competitive Pricing:

We offer our services at competitive rates, making it affordable for homeowners and businesses in Bunbury to access premium shade sail solutions.

Prompt Service:

Whether it's maintenance, repairs, or new installations, we are known for our swift and efficient service. We understand the importance of timely solutions.

Customer Satisfaction:

Our clients in Bunbury have consistently praised our work. We take pride in delivering satisfaction through our dedicated services.
WeatherSafe WA is your one-stop destination for all your shade sail needs in Bunbury. Whether you require shade sail maintenance, shade sail repairs, or shade sail solutions, we have the expertise, experience, and commitment to cater to your requirements. Your outdoor spaces deserve the best, and we are here to make it happen. 
Contact us today for a free consultation, and let us transform your outdoor living experience.